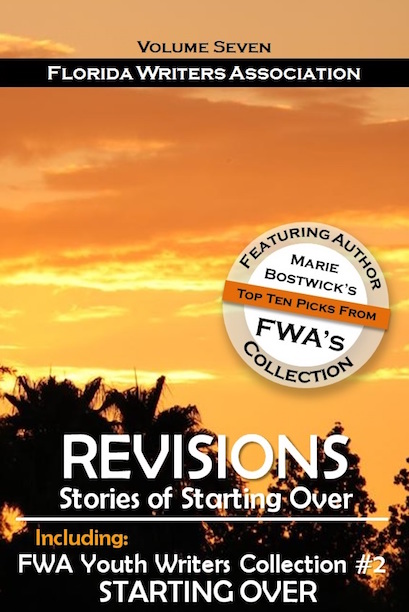 Revisions: Stories of Starting Over
Florida Writers Association Collection, Volume 7
Paperback
Published by Black Oyster Publishing, 2015
Person of Renown: Marie Bostwick
Marie Bostwick is a New York Times and USA Today best-selling novelist. Her lifelong love of quilting produced her Cobbled Court Quilt series which gained a dedicated following among quilters as well as those who don't thread needles. Her second book in that series, Ties That Bind, has been nominated as Best Mainstream Novel of 2012 by RT Book Club and she was also nominated for a Career Achievement in Mainstream Novels award by the same organization. Marie is the author of 14 novels.
Revisions, Stories of Starting Over, FWA's seventh collection of sixty winning short stories by FWA members, features Marie Bostwick's own short story and her  top ten favorites at the beginning of the book.
This volume also includes the winning contributions of our second Collections contest for youth members.
Marie Bostwicks's Top Ten Picks
Jason Bonderoff, The Cypress Tree's Apprentice
Kamesa Evette Carter, A Teen Mom Starts Over
Linda Kraus, Single
Frank T. Masi, Clipin Clopant
Phyllis McKinley, Your Mother is No Longer Theresa
Al Perrin, The Human Singularity
Faun Joyce Senatro, The Molding of Rudy
James Weis, Three Shades of Gray
Jeff Boyle, "Twenty-two"
Lynn Welsh, 3
Revisions: Story of Starting Over Contributions, Listed Alphabetically by Author
Kelly Abell, Broken
Robert Alan, The Sword and the Pen
Ernie Audino, The Ashes of the Martyrs
Susan Bartlett, Reshuffling
Diane Boilard, Mostly Blind
Cindy Bryan, The Replacements
Bria Burton, Empty Girl
David Cantillo, Miranda
Patricia A. Crumpler, A Perfect Companion
Terri Hoffman Curtis, The Plan
Ian Darling, Operation Fresh Start
Victor DiGenti, No Prom Like and Old Prom
Karen Dillon, What Happens in Vegas
Allen Gorney, The Son in the Telescope
Guttery, Patrick, A Time to be Born
Chris Hamilton, My Bathroom Door
Robert Hart, Two
Veronica Hart, Poisonberry Wine
Robert Hicks, Career Revisions – Starting Over
Christine Holmes, The Smile
John Hope, The Drive
Sharon E. Johnson, Coming to America
Beda Kantarjian, Author
Colleen Kastner, Catching My Breath
Jade Kerrion, Always a Part of You
Bruce Kubec, Melted Ice
Peggy Lambert, Help Wanted
Stehen Leitschuh, Ira's Bride
Christopher Malinger, The Sweet Scent of Spring
John Mallon, Colonial Midwife
Doris Manukian, Coming to America
Robert Marvin, The Party
Mark McWaters, Reset
John Charles Miller, Taking the Bait
Diane Mutolo, Blossoming Popularity
Elizabeth Nebergall, Jumping the Fence
Jean Nelson, Marigolds
Kate Newton, Come to Papa
Joan North, Fresh Step
Elaine Person, Happy Dazed
R.M. Prioleau, When I Grow Up…
Pat Rakowski, Together
Dale Simpson, Seven-Eighths
Kristen Stieffel, Immolation
Tom Swartz, Twelve Steps Forward
Aimee Taylor, Let Him Go
Dee Ann Waite, A Soul Revised
Sharon K. Weatherhead, Kitchen Magic
Judith Weber, The Forgiveness Test
Starting Over, Youth Contributions
Age Group 10-13
1st Place: Sarina Patel, Remembrance
2nd Place: Jaina Hope, The Wise Cherry
3rd Place: Yasmin Vuong, Emotion Chaos
Age Group 14-17
1st Place: Mikaela Bender, Terminated
2nd Place: Tyler Vest, Midnight
3rd Place: Jade Browne, Me, Myself and Time
Honorable Mention: Kira Lieb, Hope for a New Year