Shutta Crum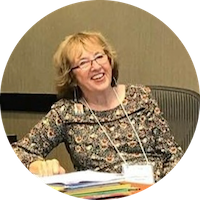 Shutta Crum is the author of many middle-grade novels, picture books, poems, and articles, including an American Library Association and Smithsonian "Notable Book." She's won four Royal Palm Literary Awards, with a gold for When You Get Here (poems for adults). Her second collection of poetry is expected in 2022. In 2005 she was invited to read at the White House. In 2010 she presented to students in Japan, hosted by the Dept. of Defense schools. Now, she writes the monthly Wordsmith's Playground newsletter, blogs for FWA, and writes for OPAP magazine (Of Poets & Poetry) for the Florida State Poets Association.
Soundscapes: Word Choice and Literary Techniques to Create Music
(Not just for poets!)
Award-winning poet and writer Shutta Crum will walk the viewer through a variety of considerations about word choice and through ways to use literary techniques to enhance the musicality (the background "color") of your writing—whether that writing is poetry, prose, or nonfiction for adults or young readers. This presentation is for all writers at all levels.