Sylvia Whitman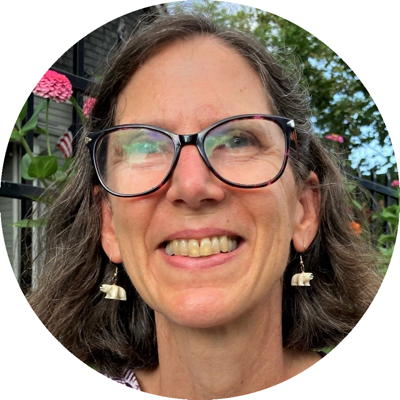 Sylvia Whitman teaches writing at Ringling College of Art and Design in Sarasota. She has published hundreds of articles for adults and children, a dozen books for young readers, and stories in magazines ranging from Redbook to The Florida Review. Recognition for her work includes two appearances on the Banks Street College annual list of Best Children's Books of the Year for What's Cooking? A History of American Food and her YA novel The Milk of Birds. Her middle-grade novel If You Meet the Devil, Don't Shake Hands is due out in September 2023. Visit her at sylviawhitmanbooks.com.
Voice:The Secret Sauce that Endears Your Characters and Defies Al
I once heard an editor at a conference remark that plot, setting, or characters don't seal a book deal: Voice does. With coaching, writers can successfully rework any of the narrative elements—except maybe voice. When an author gets it right, a reader says, I will follow this story anywhere. And when an author gets it wrong, the book sits unfinished on the nightstand until Goodwill beckons.What is voice? To paraphrase one of Supreme Court Justice Potter Stewart's (in) famous remarks, you know it when you hear it. Or as Katherine Schluten of The New York Times described voice, it's the way a writer's "personality comes through on the page, via everything from word choice and sentence structure to tone and punctuation."Voice operates at macro and micro levels. As writers we need to find our voice on a grand scale, figuring out our vision, our message, the stories only we can tell. As storytellers, we need to figure out authorial and character voices in each of our texts.
In this brave new world where AI-driven technology tools like ChatGP are beginning to spit out competent prose, voice is what will watermark original work. In this interactive and supportive workshop, we'll do a couple of journal exercises on "big picture voice" and then explore how to endow our narration and fictional characters with distinctive, compelling voices on the page. Bring a pen or a laptop, and come prepared to read, write, and share. Through a series of exercises, we'll play with' character "spines," point of view and "psychic distance," rhetorical devices that underpin voice' versification and simple poetic forms. Award-winning YA novelist Laurie Halse Anderson once said that she feels a vibration down to her bones when she gets a voice right. Let's aim to produce a few skeleton-rattling passages together.